Meet the Board: Changed Through Faith Ministries Board of Directors
Brian Goslee | Board of Directors-President

Brian Goslee serves as Board President and volunteer Executive Director for Changed Through Faith Ministries. Experiencing a radically changed life through active faith in God, and having been raised by a single mother, Brian developed a strong passion for bringing fathers and sons closer to God and each other. This led to the founding of the ministry in 2015 and becoming a 501(c)(3) nonprofit public charity organization in 2016. Brian has served for 21 years as a professional educator & 16 years in servant leadership in local churches. He is a graduate of Rivers Crossing Church Discipleship School and is currently working toward Ministry Mastery® Certification through Ministry Ventures, as well as leadership certification through the Christian Leaders Institute. Brian is married to Andrea and has a son, Jordan, and a daughter, Lauren.

Tom Ruter | Board of Directors-Treasurer

Tom Ruter has been involved with the vision of Changed Through Faith Ministries from the beginning. He is passionate about fathers and sons growing in their relationship with God and each other. Tom and his wife Jeanne have a married son, Kevin, and daughter-in-law, Dana. Tom has over 25 years of experience in business and IT management. Tom is a proven leader in his field and was awarded a prestigious top honor for fiscal responsibility at his Fortune 100 company in 2016.

Dick Kent | Board of Directors-Secretary

Richard Kent is a founding board member of Changed Through Faith Ministries. He has a true passion and drive to help men follow Jesus. He has 20 years of experience leading men's ministries and small groups, and has a passion for enabling men to experience freedom and impact for Christ. Dick is married to Mary, and has a daughter, Sarah, and son, Matthew. Dick has 30 years of Supply Chain, Sales and Project Leadership experience with a Fortune 50 company in Cincinnati, OH. Dick is known for bringing innovation, creativity, a fun spirit, and an optimistic enthusiasm to both his ministry and employment efforts.
Executive Director: Brian Goslee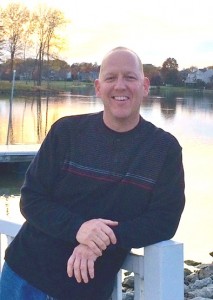 About Me
I am a husband, father of two, and teacher. My greatest passions in life are God, family, helping men grow in their faith, and the great game of baseball!
My Story
I was raised by a hard-working single mom and we attended a denominational Christian church. Although we attended church most Sundays, there was no sense of a real relationship with God. Church was a segment of my life to qualify me as a "good person." I was trying to be a good guy and do the right things, but life was simply not as fulfilling as I wanted it to be.
Like many people, I became stressed at work and stressed as a dad and husband. I increasingly relied on sinful areas and bad habits to escape this stress. I became caught in a cycle of sin, guilt, and repentance. I felt like this sin created chains on my heart that kept me from experiencing God's love, grace, and mercy.
After I truly committed my life to Jesus in 2000, I still continued to be lost and confused, but I also was convicted by the Holy Spirit of things that needed to be changed in my life: sin areas, idolizing my kids, idolizing my role as a dad, and expecting my wife or job to be responsible for my happiness. God was not #1 in my life. Although I struggled, I was also aware that I was learning and growing spiritually, but it was a slow process.
Healed and Changed
Then in 2013, I experienced a miraculous healing. This happened at a very unexpected time. I was in a doctor's office having a minor surgical procedure done, and while the medical personnel were out of the room, I was watching an interview of a sports figure who had overcome some sin areas in his life that were similar to mine. It was as if God was right in the room talking directly to me.
Then the man in the interview said something I will never forget, "to surrender is to win." I immediately sensed a double-meaning. First, I needed to surrender the idea that I had my sin areas under control. Second, I needed to completely surrender to God. I was deeply touched, my chest was pounding, and tears came to my eyes. What happened in those moments was a healing by God. After that, my life immediately began to change.
I walked out of that doctor's office a changed person; changed through faith. I believed in the healing and accepted it in faith and with complete gratitude. The sinful habits I had struggled with for so many years were destroyed and taken away instantly. Those chains on my heart I talked about earlier? Broken…Gone. My response, both then and now, has been the same: living each day from a posture of surrender and praise.
Was my whole life instantly better? No. But I could now begin to seek God fully with my whole heart. I did this in practical ways, like studying God's word, worshiping Him daily, talking with other men, and praying more frequently and boldly. As I did these things, I changed and I grew in my faith. I also became a better dad and husband, and I started living a much more fulfilling life in Christ.
We never arrive, but life is now much more joyous and peaceful. That is what I want for you. I want to help you get there faster than I did and be supported and encouraged while you do! My life was radically changed through faith and yours can be too!
Thanks for visiting!
Brian Goslee
Founder & Executive Director
Changed Through Faith Ministries
brian@changedthroughfaith.com