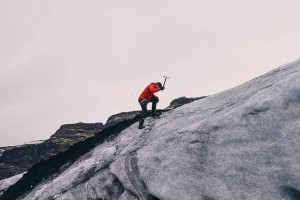 Often times, when we think about our journey with God, we think about how we are supposed to act and what we are supposed to do. In determining what we are supposed to do, I would like to ask two questions:
• In what ways do you RESPOND to God?
• What do you PURSUE?
Respond
When it comes to responding to God, I believe we are first called to RESPOND with FAITH: faith and belief in God the Father, Son and Holy Spirit-the one triune God.
As Christians, we call ourselves "believers." Therefore, we are called to believe. Consider the words of Jesus in the Gospel of John:
And as Moses lifted up the serpent in the wilderness, so must the Son of Man be lifted up, that whoever believes in him may have eternal life. For God so loved the world, that he gave his only Son, that whoever believes in him should not perish but have eternal life.
John 3:14-16 (ESV)
We need to demonstrate belief in God the Father, God the Son, and God the Holy Spirit. But we also need to show faith in His word and His promises. Those of us who have accepted Jesus Christ as our Savior should demonstrate, in our thoughts and our actions that we believe we are forgiven, righteous, and redeemed sons and daughters of God.
In what ways, then, do we RESPOND to God? First, we RESPOND with faith that is full and continuous. Then, we can RESPOND in the many other ways we are called. These other areas of response include things such as loving, serving, and sharing the gospel. These other responses flow from a life that is full of faith and reliance on Christ; a life that is faithful, not fearful. Faith must evict fear all the way into the depths of our hearts and souls.
Pursue
I believe what God really wants from us, and with us, is a daily and intimate relationship. Not because he needs us, but because He wants us. He pursues each of us and we should pursue Him in response.
You will seek me and find me, when you seek me with all your heart. Jeremiah 29:13 (ESV)
What does it look like to seek, or PURSUE Jesus? Let's look at two examples from the book of Luke.
Jesus heals a sick woman
In the first story, we read about a woman who was determined to get to Jesus at all costs. She pursued Jesus, with full faith that He could heal her. She did not stop until she got to Him.
As Jesus was on his way, the crowds almost crushed him. And a woman was there who had been subject to bleeding for twelve years, but no one could heal her. She came up behind him and touched the edge of his cloak, and immediately her bleeding stopped. "Who touched me?" Jesus asked. When they all denied it, Peter said, "Master, the people are crowding and pressing against you." But Jesus said, "Someone touched me; I know that power has gone out from me." Then the woman, seeing that she could not go unnoticed, came trembling and fell at his feet. In the presence of all the people, she told why she had touched him and how she had been instantly healed. Then he said to her, "Daughter, your faith has healed you. Go in peace."
Luke 8:42-48 (New International Version)
Jesus heals a boy with unclean spirit
On the next day, when they had come down from the mountain, a great crowd met him. And behold, a man from the crowd cried out, "Teacher, I beg you to look at my son, for he is my only child. And behold, a spirit seizes him, and he suddenly cries out. It convulses him so that he foams at the mouth, and shatters him, and will hardly leave him. And I begged your disciples to cast it out, but they could not." Jesus answered, "O faithless and twisted generation, how long am I to be with you and bear with you? Bring your son here." While he was coming, the demon threw him to the ground and convulsed him. But Jesus rebuked the unclean spirit and healed the boy, and gave him back to his father. And all were astonished at the majesty of God.
Luke 9:37-43 ESV
In this story, Jesus says, "O faithless and twisted generation." When we examine our own level of faith, both inwardly and as seen outwardly in our actions, are we lacking in faith or full of faith?
Take special note of what happens to the boy– when he was making his "final approach" in PURSUIT of Jesus:
While he was coming, the demon threw him to the ground and convulsed him (Luke 9:42 ESV)
Do you ever feel like that? Sometimes, when we are getting closer and closer to Jesus, the enemy seems to try to convulse us, distract us, and throw us down and off track. But the awesome part is that Jesus overcomes! Just read the next verse:
But Jesus rebuked the unclean spirit and healed the boy, and gave him back to his father (Luke 9:42 ESV)
Put yourself in the place of the boy in this story. As you PURSUE and come to Jesus with your whole heart, even if the enemy takes a swipe at you and knocks you down, Jesus overcomes, heals, and gives you back to your heavenly Father!
Wrap Up
Again, I ask,
• In what ways do you RESPOND to God?
• What do you PURSUE?
God's response to us is to love us, to always hear our cry, to supply our every need, and to invite us to walk with Him, every day, in intimacy.
What is our RESPONSE? Do we PURSUE Him in return? Do we invite Him into every moment of our day, or do we just set a little time for Him aside here and there? While that is great to do, and needed, He doesn't want just part of our lives, He wants the whole thing: the good, the bad, and the ugly. Why? Because He knows the plans He has for us are abundant and immeasurably more than we can imagine (see Ephesians 3:20).
In the stories above, we see people whose mindset seems to be "I AM GOING TO GET TO JESUS AT ALL COSTS." They got to Jesus, and Jesus said their faith healed them, saved them, and made them well. This kind of faith blinded these people to other cultural things that were less important, like caring what others thought of them.
For us, it is much easier for us to get to Jesus. We just need to ask Him. For those of us who have accepted Jesus as our savior, his Holy Spirit is in us and Jesus is with us all the time. Jesus said,
"And behold, I am with you always, to the end of the age" Matthew 28:20 (ESV)
We simply need to acknowledge Him, pray to Him, and actively invite Him to participate with us in every aspect of our lives.
I invite you to seek and PURSUE the Lord, with all of who you are, in every moment, of every day.
For more on PURSUE, see the PURSUE poem and products at this link: Pursue Poem and Products