Believing differently leads to living differently.
I love the way Jesus describes the power of belief and faith in this story from the Gospel of Mark. Listen to this father who brings his son to Jesus for healing:
And Jesus asked his father, "How long has this been happening to Him?" And He said, "From childhood. And it has often cast him into the fire and into water, to destroy him. But if you can do anything, have compassion on us and help us." And Jesus said to him, " 'If you can'! All things are possible for one who believes." Immediately the father of the child cried out and said, "I believe; help my unbelief!" And when Jesus saw that a crowd came running together, he rebuked the unclean spirit, saying to it, "You mute and deaf spirit, I command you, come out of him and never enter him again."
(Mark 9:21-25 ESV)
Jesus says, "If I can?" I see a bit of humor in this. Consider this in more contemporary terms. It's as if Jesus says, "If I can? C'mon man, I'm Jesus. God in the flesh, right here on earth. You wouldn't ask Peyton Manning if he 'can' throw a touchdown pass, would you?"
But Jesus has none of the ego or bravado I described. He doesn't claim that He heals. Instead, He declares that belief is the essential ingredient to healing: "All things are possible for one who believes." We respond to God in faith, and God responds to our faith.
Throughout the gospel accounts of Jesus' life, He frequently teaches about belief in all types of environments: traveling with His disciples, teaching the crowds, communicating with individuals, and praying.
On one occasion, while teaching a crowd, Jesus said,
"For this is the will of my Father, that everyone who looks on the Son and believes in Him should have eternal life.
(John 6:40 ESV)
Believing is mostly about what is in your mind, soul, and heart. God wants you to use your mind in your faith, not only your heart or emotions. The way you live out your life, as well as where you spend your time and resources, speak volumes about what you believe. You can say what you believe to whomever you want, but you are going to SHOW what you believe in your behavior and actions every time.
If you believe God is who He says He is; if you believe He is Father, Son, and Holy Spirit; if you believe He delivers on His promises, then the way you live your life changes. Here are some examples of what that change could look like:
You do not spend as much time chasing the things of this world.
You do not sacrifice family time over and over in the name of being the provider.
You do not constantly think about where and when you will get your next drink or drug.
You do not gossip about others and engage in frequent comparison to feel better about yourself and your shortcomings.
These examples are intended to encourage, to know you are not alone. They are not used in criticism or judgment. I did many of these things, but because I now believe differently, I behave differently. 
When our beliefs are more aligned with God, we experience freedom from those former motivations for our decisions and actions. Our behavior and actions are different because our beliefs are different. We more frequently choose to focus on God and believe His promises and His Word.
These are just some practical examples to show how your life could change on the outside, based on beliefs you hold on the inside. You live out your beliefs.
In short, when you believe deeply in God and all that He is, you more consistently "Set your mind on things that are above, not on things that are on the earth" (Colossians 3:2 ESV).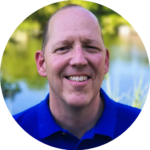 Brian Goslee
Author & Founder, Changed Through Faith
You can learn more in the book Changed Through Faith, available on Audiobook, paperback, and Kindle at Amazon.com