God's Provision: Our Consistency
by Brian Goslee
Look at the birds of the air; they do not sow or reap or store away in barns, and yet your heavenly Father feeds them. 
Are you not much more valuable than they?
(Matthew 6:26 NIV)
This verse has always giving me comfort in knowing that God sees me as very valuable and will provide for me.  Recently, however, I began to reflect on this verse more.
Sometimes, I think we are comforted by such passages but mistakenly may also fall into a place of  "sitting back," expecting God to do all of the work. Jesus does speak here to provide comfort and guard against being anxious. We can have confidence and comfort in the knowledge that God, who takes care of the birds, will take care of us because He loves us and has a plan for us.
However, birds do not just "sit back" and receive God's provision without taking action. Although birds do not sow and reap as a traditional farmer or gather into barns, they do have to take action consistently to obtain their food, which is their provision from God.
Watching the Birds
I have recently been paying more attention to the birds in my area. I started to notice their frequent activities of feeding.
Have you ever watched birds at a park or in a yard, particularly after grass is recently mowed? You may have noticed them walking along, pecking their beaks into the ground. They are foraging for seeds, insects, and other food. Continue observing and you will see them do this frequently, with consistency.
Birds also often fly to leave a nest and bring things back for their baby birds. Recently I was staying as a guest at a home and noticed a particular bird doing this many times throughout the day, each day, consistently.
If we relate these activities to the verse above, what we find is that birds don't just sit around, open their beaks toward heaven, and have God drop food into their mouths (except for a helpless baby bird in a nest)! They have to take consistent action, and when they do, their actions meet God's provision and—boom—it's mealtime!
What Can We Learn From The Birds?
We can learn something from this. We cannot just sit around and expect God to drop provision "into our mouths" day after day. We need to consistently put forth effort into working in our jobs, our daily lives, and our relationships with God and others. We need to forage for spiritual food from God. We need to put work into the growth of our faith and our relationship with God through being in His Word, worshipping, and praying consistently. When we do, our consistent work, grounded in prayer and obedience to God, will meet God's provision for us.
I am not indicating that we should aimlessly "do stuff" to earn God's provision or that we are "performing" to earn something from God. Since we are more advanced than the birds, we can seek God's will and decide to obey or not obey. We then can and should take action.
I am also not saying that there are not times that we should sit and be still in God's presence, listen from Him, and receive from Him. That is important too.
But we can learn from the "birds of the air" that being consistent in the right activities will help us experience and receive the provision that God is supplying. Let us be grateful for it and take comfort in knowing God loves you and He will provide! As a practical application, when you see the birds flying or searching for food, be reminded of God's provision and love for you and also be reminded to take a step each day to meet the provision God has supplied.
So do not fear, for I am with you; do not be dismayed, for I am your God. I will strengthen you and help you; I will uphold you with my righteous right hand. (Isaiah 41:10 NIV)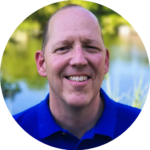 Brian Goslee
Author & Founder, Changed Through Faith
You can learn more in the book Changed Through Faith, available on Audiobook, paperback, and Kindle at Amazon.com