My Best Friend
(Introduction by Brian Goslee)
In loving memory of my grandmother, Vera N. Brown (1919-2013)
INTRODUCTION

I spent seven of years of my youth being raised in a home with my grandparents, my mother, and my brother. My grandmother, Vera N. Brown, was a positive spiritual influence in my life. When I was about 13 years old, she started taking me to a Wednesday night prayer group. It was there that I learned about having a relationship with Jesus Christ, the gifts and power of the Holy Spirit, and the goodness of God our Father. As a teenage boy, it certainly didn't hurt that we frequently stopped at McDonald's for filet-of-fish sandwiches and fries on the way home!
"Gram" was my earliest spiritual mentor and influence who taught me about Jesus and what an active relationship with God looked like. She was not a writer nor did she hold any positions in the church. But she loved the Lord. She lived into her early 90's, suffering from Alzheimer's in her later years.
She wrote the reflection below when she was in her 60's and loved to share it with people, along with a smile and a laugh, especially about "the answering machine." (She did not like to call and get someone's answering machine—especially her family's)
This piece of writing has never been shared publicly until now. I keep the handwritten copy in a frame on the wall in my home. It is a wonderful encouragement to have an active relationship with Jesus Christ and to His "24/7" (see link to previous post) accessibility.
Please enjoy it and share it often, in tribute to my grandmother, Vera N. Brown.
My Best Friend

by Vera N. Brown

My very best friend is Jesus because he is always there for me. He has no answering machine, his line is never busy.
His arms are open to receive me 24 hours a day! I can tell him anything. I can really expose myself to Him.
No matter how often I neglect Him or how badly I offend him, he always forgives me and love me.
He never tires of listening to my complaints and problems but is always there to help me solve them!
I always feel so much peace and so happy after I talk and share with him.
I love my best friend. He is the most important person in my life!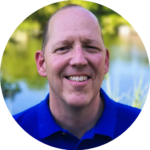 Brian Goslee
Author & Founder, Changed Through Faith
Learn how to activate your faith in 4 steps today in Changed Through Faith,
available on audiobook (free with Audible trial), paperback, and Kindle at Amazon.com and eBook at Google Play Books and Kobo.