24/7
by Brian Goslee
I am very grateful that we have a God who is with us 24 hours a day, 7 days a week…24/7! 
He is always available to pray to, consult with, receive from, cast our cares on, obey, follow, and much more. We don't need to be in a particular place (physically, mentally, or emotionally) to be able to reach Him or to ensure that God is with us.
In the last recorded words of Jesus in the Gospel of Matthew, Jesus says,
"Teach these new disciples to obey all the commands I have given you.
And be sure of this: I am with you always, even to the end of the age."
(Matthew 28:20 NLT)

He hears our cries.
He hears our prayers.
He hears our praise and thanksgiving.
He is with us in our decisions, dreams, actions, and inactions.
  …24/7
 This is a tremendous gift. Are you tapping into it? 
At any given moment, simply: 
Thank Him

for your family, friends, and things He has given you in this world to steward and use for Him (see Philippians 4:4)

Share your concerns, worries, and fears

and pray for guidance and wisdom (See Philippians 4:6-7)

Confess your sins to Him

, change your ways when needed, and express your desire to move forward and grow as a son or daughter of His, as you seek and submit to His ways instead of your own (see Psalm 37:5, Proverbs 3:5-6, James 4:7, Colossians 3)

Praise Him

for being the wonderful God that He is (see Psalm 100, Psalm 146)
WE HAVE A ROLE IN THIS
The other part of "24/7" that we need to recognize is our role in this relationship.
God desires for us to be steadfast in our faith in Him, just as He is to us—24/7. Yes, this is a difficult assignment, but that doesn't mean we don't "go for it." To be steadfast means to be immovable—to be firm in belief and determination.
 The apostle Peter reminds us what will happen when we remain steadfast in our faith in God:
And after you have suffered a little while, the God of all grace, who has called you to His eternal glory in Christ, will Himself restore, confirm, strengthen, and establish you. (1 Peter 5:10 ESV)

If God is with us when we run TO Him, He is also with us when we are running FROM Him, hiding, and struggling in our belief. 
We all struggle from time to time. In great relationships, you don't just share with that person only when things are going good or only when things are going bad; you are vulnerable and share with them in BOTH good times and bad times. You "do life" together. God wants that kind of relationship with you. God wants to "do life" with you. He wants the best for you.
INCLUDE GOD 24/7
Even when we are operating out of fear or unbelief, instead of the boldness of our faith in Him, we need to remain steadfast in our faith. We may not see it or feel it at the time, but God has plans for us that include a future and a hope (see Jeremiah 29:11).
Resist the temptation to "segment" parts of your life and leave God out of your "fun time," or "work time." Include Him in ALL of it. After all, He's there anyway.
There is certainly much more to our relationship with God, but take a moment to talk with God and thank Him for being with us and available to us 24/7!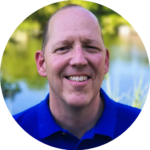 Brian Goslee
Author & Founder, Changed Through Faith
Learn how to activate your faith in 4 steps today in Changed Through Faith,
available on audiobook (free with Audible trial), paperback, and Kindle at Amazon.com and eBook at Google Play Books and Kobo.