Share Your Story: The CTFaith Story
This post coincides with Episode 2 of the Changed Through Faith Podcast.
If you would rather listen to it than read it, feel free to visit the podcast at these link on Apple, Spotify, Audible, or Amazon Music.
The focus of this post is to share with you (1) my story, (2) where Changed Through Faith came from, and (3) what Changed Through Faith Ministries is doing now. Not only do I want to give you an idea about me and our ministry, but the real purpose of this is to give you some encouragement to activate your own faith in God and to know that, no matter where you are in your life and in your faith journey, you can have hope for a future that has more light and positive change ahead!
CHARLEY-SHARE YOUR STORY
My close friend Charley was a member of our Board of Directors. He was one of the most loving and down-to-earth guys I've ever met. Charley was a straight-talker from the Bronx, NY, who wasn't ashamed to love Jesus. The first time I met Charley I shook his hand and he said, "I'm Charley, a sober drunk who loves to help the least and the lost." And the cool part is that's exactly what he did! He would gladly share all the mistakes he made, if it would save you from making one of your own and help you get closer to Jesus.
Charley mentored many young men who struggled with addiction because that was Charley's struggle early in his life. He was a tremendous leader in the Celebrate Recovery ministry at our church. Unfortunately, Charley passed away in an accident about a year ago (you can read more about Charley on our website changethroughfaith.com). The biggest thing I'll carry around with me from Charley is this phrase, share your story. It's something he encouraged people to do. It's something he did himself very effectively.
Here is the origin of my familiarity with that phrase. It came from what Charley shared one night in our small men's group together. We studied different books and videos of Christianity and faith topics. One night, we were talking about how to defend our Christian faith when confronted by others who didn't believe in God. Charley leaned back in his chair and said, "You may be able to argue with me on details of the Bible, but you can't argue with my story, because it's my story of what Jesus did for me."
And Charley's exactly right, we all have a story. Jesus gave us all a story to this point in our lives, which is always developing into a greater story. And our story's far from over; there are more great things ahead! One great way to share our faith with others is to simply share our own story.
PUTTING IT INTO PRACTICE
I was at a book fair event recently and I had a booth with my Changed Through Faith books out. A man approached me and he made it clear that he did not believe in God. As I was talking to him, I was immediately thinking of Charley and sharing my story of what Jesus did for me. I'm not good at debate in general, or debating different facts of the Bible, but I can share my story. At about this time in the conversation, he pointed at the stack of my books and asked, "So, what's your story?" So, I shared my story with him, and I'd like to share some of it with you…
MY STORY
For all of my life, I said that I was a Christian. I believed in God. I went to church. I prayed. But I did life, and Christianity, my way. As a result, I found myself constantly fluctuating between right and wrong behaviors, making it up as I went along. As I entered my forties married with two children, I continued living life trying to be a good guy, but I was frustrated on the inside.
I coached my son's sports teams. I went to my daughter's sporting and academic events. I was there for my wife—sometimes. I had accepted Jesus as my Savior a decade earlier, and I was trying to learn more and take steps to do the right things. I served most Sundays at church and read the Bible sometimes. "That's more than most people," I said to myself. (Beware of comparison, the great tool of the enemy!)
I was also experiencing the stress many of us have over things like job challenges, finances, and raising kids. Doing things my way also meant that I stuffed my feelings. This resulted in emotional pain, feelings of being stuck, and a nagging sense that there must be something more to life.
I numbed my frustration and pain with poor decisions for many years, which developed into bad habits. Those bad habits, which I kept hidden in the darkness of secrecy, grew like mold into areas of habitual sin. The habitual sins graduated to addictions.
My brain was becoming rewired along the way, resulting in very detrimental ways of thinking, behaving, and living. I was trying to figure things out on my own and not following God in any kind of active way, other than going to church on Sundays and saying a prayer once in a while for something that I wanted.
I was stuck. I felt ashamed. I felt like something was missing.
That was me until God radically transformed my life.
IT WAS TIME FOR A CHANGE
On November 1, 2013, I experienced a miraculous healing. This happened at a very unexpected time. I was in a doctor's office having a minor surgical procedure done, and while the medical personnel were out of the room, I was watching an interview of a former athlete who had overcome sin areas in his life that were similar to mine. It was as if God was right in the room talking directly to me.
Then, the man in the interview said something I will never forget, "To surrender is to win." I immediately sensed a double-meaning. First, I needed to surrender the idea that I had my sin areas under control. Second, I needed to completely surrender to God completely.
I was deeply touched, I felt warm from head to toe, my chest was pounding, and tears came to my eyes. What happened in those moments was a healing by God. I was healed instantly of addictions that had controlled my life and thinking for over fifteen years. I walked out of that doctor's office a changed person—changed through faith!
That day, I surrendered to win. I believed in the healing and accepted it in faith and with complete gratitude. The sinful habits I had struggled with for so many years were destroyed and taken away instantly!
The healing was only the beginning. In the months and years that followed, a transformation took place. I realized that I had been searching for my joy, peace, and meaning everywhere except in an active relationship with God. He helped me replace fear with faith, frustration with joy, and anxiety with peace. Meaning and purpose in life started to come to me from its source, God.
I started to live a life of active faith. I went from being a one-day-a-week Christian to a seven-days-a-week Christian.
A VALUABLE RESOURCE
Before I go any further, I want to just encourage you—if you're struggling in any area of hurt, hangup, or habitual sin or addiction, there's a great ministry that I mentioned earlier called Celebrate Recovery, and it is not only for substance abuse issues. It is for any kind of hurt, hangup, or habit. If that might be helpful to you or a loved one, visit celebraterecovery.com.
THE START OF CHANGED THROUGH FAITH MINISTRIES
Two years later, in 2015, I was taking a nine-month discipleship course at my church. It was a very intensive and great course. During that time, I discovered I really enjoyed reflecting and writing about what God was doing with me and areas of faith and spirituality.
When the course was over, I looked back at things I had written for the course and journaled. I started to share them with some close friends and said to them, "I'm really encouraged by reading these stories of what God's been doing in my life, things I've learned, and things God's revealed to me. Do you think that some of these writings could be helpful to anybody else?"
They encouraged me that it would. That grew into a blog, a website, and eventually, a ministry. At first, we focused on fathers and their families and events. There was a shift around 2017 and God put it on my heart to write Changed Through Faith. So, we shifted more to a ministry of helping people advance in their faith growth and apply that faith and relationship with God to their every day lives in practical ways. One day, the phrase came to me while I was simply in my kitchen, thinking about the ministry. I thought, "My life's been changed through faith and that's what I want to teach people to do: live lives every day that are changed through faith."
I wanted to focus on how that played out practically in my life and teach people to do that. Most of us reading this might go to church on Sundays. It's awesome to worship and hear great sermons. But what about the other six days of the week? How do we do this when we're working in our jobs? How do we remember God throughout the day practically? How do we really put it into practice? That's where the Changed Through Faith book came from in 2019 and how the ministry made a shift.
The Bible also has some things to say about being changed through faith.
For you are all children of God through faith in Christ Jesus. (Galatians 3:26 NLT)

For by grace you have been saved through faith. And this is not your own doing; it is the gift of God (Ephesians 2:8 ESV)

Do not lie to one another, seeing that you have put off the old self with its practices and have put on the new self, which is being renewed in knowledge after the image of its creator (Colossians 3:9-10 ESV)
These verses help to describe what it means to be changed through faith. The change is done by God, but it takes action on our part to activate the change. And that's what the four steps of Changed Through Faith are. That's what our ministry tries to teach. I'll be going into those steps more in future blog posts and podcasts, and sharing interviews with people whose lives are changed through faith.
CHANGED THROUGH FAITH NOW
I also would like to share about where Changed Through Faith is now. A few years ago, a pastor, minister, and evangelist from the country of India reached out to me when I released the book and he saw it on social media. He told me that he needed some materials to help teach the good news of Jesus. He didn't ask for money, but he wanted some guidance, support, and resources. So we got to know each other and eventually started having video conversations and I learned more about his ministry. Eventually, CTFaith chose to also provide financial support.
Our relationship and support of resources to his ministry now includes an entire translated teaching curriculum we have created and supplied so that he can teach the Changed Through Faith material. Our support of Pastor Babu and his wife Sarah and their ministry has grown quite a bit.
We also support small groups using the Changed Through Faith books in church and school faith development courses.
Our focus and phrase for this year is:

Let's spread the word so he (Pastor Babu) can spread THE WORD!
The best way to learn about this is to watch this 3-minute video about CTFaith India on YouTube and the:
1) Food ministry
2) Bible ministry
3) CTFaith India teaching
It's amazing what is happening! We have been increasing our support of CTFaith India. So, I hope you'll join us in that!
SHARE YOUR STORY
I encourage you to share your story with other people, whether you're in a period of difficulty or if you're in a period of blessing or healing right now. Either way, it could help someone else realize that:
(a) they're not alone in their struggle, or
(b) give them hope that they can get through their struggle.
And I encourage you not to just share your story with everyone, listen to theirs as well. Let them know by your active listening that they are valued and they are respected. I hope this post has encouraged you to share your story.
If you would like to get in touch with us to share your story, either privately or as an interview guest for our blog or podcast, please email us at: support@changedthroughfaith.com.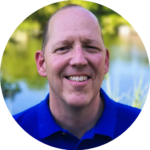 May you live each day Changed Through Faith,
Brian Goslee
Author & Founder, Changed Through Faith
Learn how to activate your faith in 4 steps today in Changed Through Faith, available on audiobook (free with Audible trial), paperback, and Kindle at Amazon.com.